Press Releases
Program Overview
MBI partnered with eligible municipalities and interested providers on strategies to extend high-speed Internet access for residents and businesses in communities with existing cable infrastructure.
The Commonwealth appropriated state bond funding to the MBI to extend broadband service in eligible Western Massachusetts communities with existing but limited cable infrastructure.
MBI developed a program to foster public-private partnerships and offset a portion of the costs of expanding beyond the existing cable network in these communities, helping more Western Massachusetts residents gain access to high-speed Internet service. The MBI is permitted by state law to provide grants to public, non-profit or for-profit entities to finance and acquire equipment or other property to build out these networks. The MBI's main objective was to develop a solution to offer broadband access for households and businesses that maximizes the impact of limited public resources, leverages other sources of funding (to the extent necessary and appropriate), and promotes economic growth in the region.
Program Structure
After a period of verifying data, convening a workshop with providers, and meeting with eligible towns, the MBI released a Request for Qualifications for Cable System Extensions (RFQ No. 2015-MBI-03) in June 2015. The purpose of the RFQ was to qualify interested and eligible broadband providers who could be potential industry partners for extensions.  This RFQ asked for provider qualifications and an expression of interest in expanding broadband in eligible towns.
Eligibility: 
Communities with residences eligible for participation in the Broadband Extension program were those with lower than 96% cable penetration rates in Western and North Central Massachusetts. Through a mapping exercise in partnership with the towns and incumbent providers, the MBI designated the following communities as eligible for participation: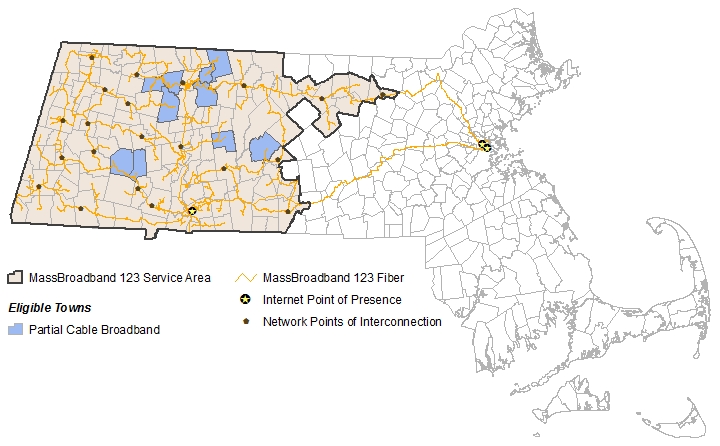 | | | | | |
| --- | --- | --- | --- | --- |
| Buckland | Chester | Conway | Gill | Hardwick |
| Huntington | Montague | Northfield | Pelham | Shelburne |