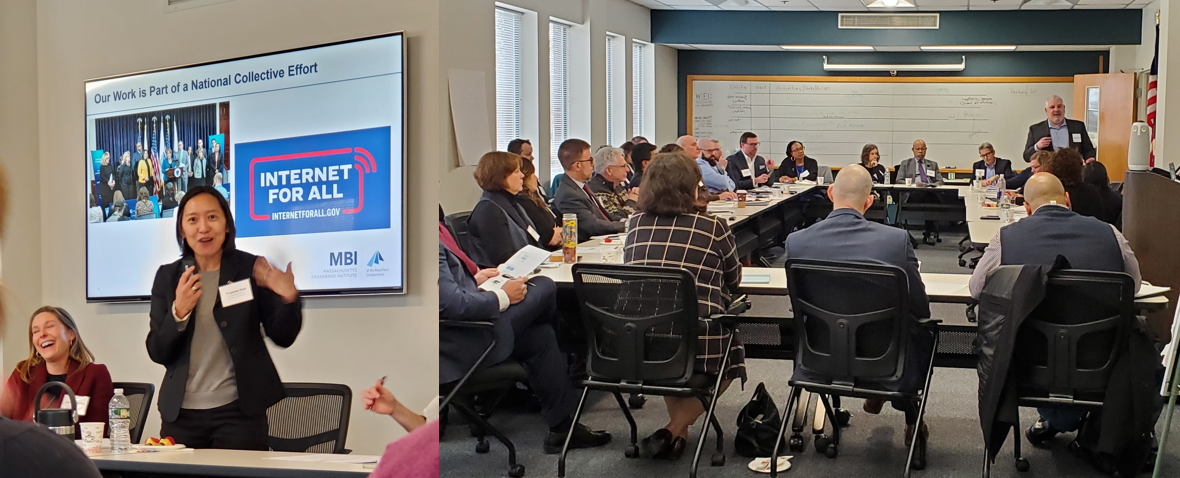 The Commonwealth of Massachusetts is preparing for a transformational, once-in-a-generation opportunity to close the digital divide through the federal Bipartisan Infrastructure Law and American Rescue Plan Act funding.
In Massachusetts, over 98% of people have access to broadband, ranking 5th in the U.S. However, there is still work to be done to close remaining gaps, address affordability, and expand access to internet-connected devices and digital literacy training. The Executive Office of Economic Development and Mass Broadband Institute will implement and oversee all broadband and digital equity initiatives, including developing statewide digital equity plans.
The Broadband and Digital Equity Working Group will guide and advise the planning effort, which includes statewide stakeholder engagement. The Working Group is composed of leaders from across Massachusetts to offer specific topic area expertise and represent target populations as defined by federal funding guidelines and MBI's programs. 
Members
| | | |
| --- | --- | --- |
| Susan Adams | Vice President of Health Informatics team | Massachusetts League of Community Health Centers |
| Carol Allman-Morton | Executive Director | Berkshire Community College |
| Jay Ash | CEO | Mass Competitive Partnership |
| Virginia Benzan | Director of Racial Justice Advocacy | Mass Law Reform Institute |
| Tricia Canavan | Executive Director | The Tech Foundry |
| Emilio Dorcely | CEO | Urban Edge |
| Linda Dunlavy | Executive Director | Franklin Regional Council of Governments |
| Mark Fine | Director of Municipal Collaboration | Metropolitan Area Planning Council (MAPC) |
| Ben Forman | Director of Research | MassINC |
| James Fuccione | Senior Director | Mass Healthy Aging Collaborative |
| Santiago Garces | Chief Information Officer | City of Boston |
| Tom Golden | City Manager | City of Lowell |
| Kristen Gowin | Executive Manager | Electrical Contractors Association of Greater Boston |
| Denise Jordan | Executive Director | Springfield Housing Authority |
| James Lonergan | Director | Massachusetts Board of Library Commissioners |
| Joseph Lopes | Executive Director | Greater New Bedford Workforce Investment Board |
| Ron Marlow | Director of Workforce Development and Alternative Education | Acton for Boston Community Development |
| Paul Matthews | Executive Director | Worcester Regional Economic Bureau |
| Derek Mitchell | Co-Founder and President | LEADS |
| Dan Noyes | CEO | Tech Goes Home |
| David Podell | President | MassBay Community College |
| Pam Reeve | Chair | The Women's Edge |
| Frank Robinson | Vice President of Public Health and Community Relations | Baystate Health/Western MA Alliance for Digital Equity |
| Leo Sarkissian | Executive Director | The Arc of Massachusetts |
| Scott Scharffenberg | Executive Director | Roca Inc. |
| Kim Shellenberger | Vice President, Integrated Care and Innovation | Vinfen |
| Q.J. Shi | Director | Asian Business Empowerment Council |
| Steve Smith | Executive Director | Cape Cod Technology Council |
| Victoria Torres | Manager of Advocacy & Organizing | Latinos for Education |
| Kyle Toto | Public Affairs Specialist | VA Boston Healthcare System |
| David Weeden | Deputy THPO/Tribal Councilman | Mashpee Wapanoag Tribal Council |
| Tim Wilkerson | President | New England Cable & Telecommunications Association (NECTA) |