Program Overview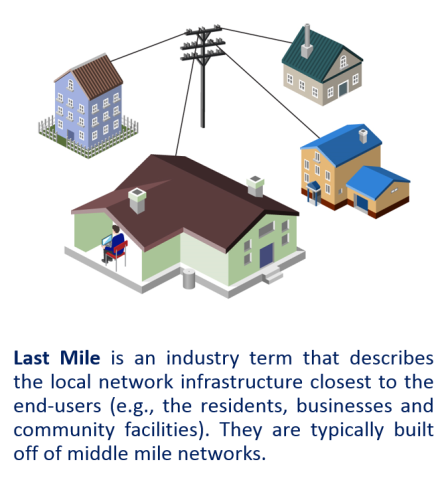 The Commonwealth of Massachusetts, with the support of the Massachusetts Legislature, appropriated funds to support the MBI's mission to develop access to broadband service throughout the Commonwealth through public and private partnerships. The Last Mile Programs are designed to support and co-invest in residential broadband access projects in 53 Last Mile Towns, including 44 unserved Western and Central Massachusetts towns that lacked any residential broadband service and an additional 9 underserved Western and Central Massachusetts towns that were partially served by cable. 
In May 2016, then-Governor Baker and Lieutenant Governor Polito met with legislative leaders, MBI officials, and local representatives from unserved municipalities to discuss a strategic pathway forward for the Last Mile program, an effort designed to accelerate progress. A new Last Mile project leadership team was also announced to guide the MBI's high-speed internet accessibility efforts and appropriately disperse state capital Last Mile funds to approved projects. View the complete Program Policy.
The MBI, Commonwealth, and Executive Office of Housing & Economic Development (EOHED) built a flexible framework that would help all Last Mile towns achieve broadband access, allowing for a range of project models, including multi-town collaborations, locally-owned networks, and industry partnerships. Project models allowed for many technology and operational choices, as long as they meet core speed, affordability, and sustainability standards.
The Commonwealth and EOHED launched the Last Mile Infrastructure Grant Program for Last Mile towns that seek to build a municipally-owned broadband network. MBI administers the Flexible Grant Program that provides grants to private providers to build, own and operate broadband networks in Last Mile Towns. MBI also administered the Broadband Extension Program for partially served cable towns, which was completed in September 2018.
Of the 53 Last Mile Towns, 48 towns have completed projects and an additional 5 municipalities have some premises lit but are not fully complete.