MassBroadband 123 is an open access, fiber-optic middle mile network in western and north central Massachusetts
MBI completed construction of an open-access, middle mile fiber-optic network in early 2014. The network stretches across 120+ western and central Massachusetts communities and was the first step in bringing high-speed internet to all parts of the state. It is used as a building block to design and build last mile connections to residents and businesses in the regions still lacking high-speed internet services.

Middle Mile is an industry term that describes the network infrastructure that connects last mile (i.e., local) networks to other network service providers, major telecommunications carriers, and the greater internet. It does not typically connect the majority of end-users.

About the MassBroadband 123  Network
Designed, built, and owned by MBI
Operated by Local Linx (formerly KCST USA)
Consists of approximately 1,200 miles of fiber, connecting 120+ communities in western and north central Massachusetts
Provides direct connectivity to hundreds of public facilities in Berkshire, Franklin, Hampden and Hampshire Counties and parts of Worcester County
Covers more than one-third of the geographic area of Massachusetts, which has more than 400,000 households and businesses and more than one million residents
MassBroadband 123 Operations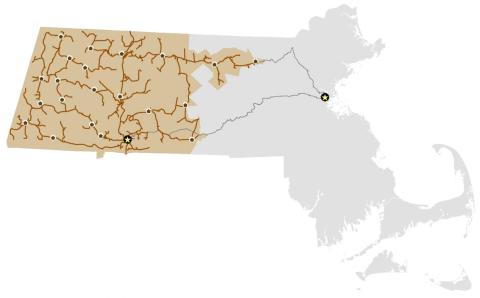 Local Linx provides wholesale services on the network to local retail Internet Service Providers (ISP) that may offer consumer services in the region.
ISPs use the network to offer broadband services to public safety entities, schools, libraries, medical facilities, town halls, and other Community Anchor Institutions (CAI) already connected to the network.
ISPs may request quotes from Local Linx to build new extensions to connect additional CAIs and businesses in the region.
IPSs can purchase dark fiber connections, high speed lit services to facilitate backhaul for Fiber to the Premise (FTTP) networks, and collocation services to house equipment within MassBroadband 123 facilities.
>  Get Connected: Visit the Local Linx MassBroadband 123 website
>  Learn more about the network design and construction project
>  See How Schools Are Benefitting from the Network
For any questions, please email broadband@masstech.org.