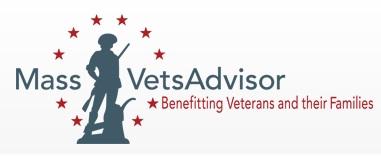 Benefitting Veterans and their Families
MassVetsAdvisor.org, launched in 2012, is the result of a collaboration between the Massachusetts Broadband Institute, the Massachusetts Department of Veterans' Services (DVS), the Red Sox Foundation and the Massachusetts General Hospital Home Base Program. Development of the site was funded through the National Telecommunications and Information Administration's (NTIA) State Broadband Initiative program. In 2016, DVS took ownership of and responsibility for maintaining the site.
About Mass VetsAdvisor:
Mass VetsAdvisor strives to serve the nearly half-million veterans living in Massachusetts, and their families, as a bridge to the many benefits that they have earned in defense of our nation. It is an easy to use website that helps veterans and their loved ones find the services and programs that they are eligible for and deserve. By combining state and federal benefits information into one tailored online search, veterans and their families now have access to one stop shopping for all of their needs. Access to financial, education, and housing benefits that once took hours to research—resulting in dozens of phone calls, meetings and frustration—are now just one click away on MassVetsAdvisor.org.
This website is a guide to anyone searching for benefits and programs for veterans and their family members. The data is comprehensive and currently provides search results from Massachusetts and federal resources, listing only the benefits and services the veteran is qualified for and, where available, an "action plan" to apply for the benefit. Users will be able to print, email, save, or forward the action plan to his or her Veterans Services Officer. The goal is to refine and expand this site over time to improve the quality of the information and to increase the knowledge and use of benefits, programs, and services to veterans and their families.
Public Service Announcement:
Watch the Mass VetsAdvisor PSA video on YouTube at Comcast OnDemand.