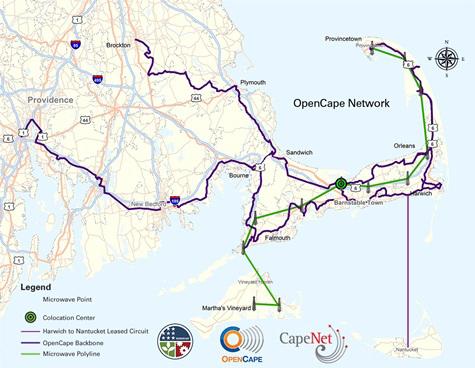 OpenCape is a non-profit organization located on Cape Cod that constructed a comprehensive middle mile communications network to expand broadband access throughout Cape Cod, the Islands and the South Coast. The open access network will support the economic, educational, public safety and governmental needs of southeastern Massachusetts.  The OpenCape network is operated by CapeNet. 
The MBI provided OpenCape with $5 million in state matching funds that helped OpenCape to leverage a $32 million federal stimulus award in 2010. 
The OpenCape network consists of:
a fiber-optic backbone on Cape Cod, 
fiber-optic extensions to regional network connection centers in Providence and Brockton, 
fiber-optic laterals connecting more than 90 community anchor institutions, 
a public safety backup microwave radio overlay for the Cape and Martha's Vineyard, and 
a Regional Collocation Center in Barnstable. 
Services range from traditional bandwidth based offerings to dedicated wavelengths of light to dark fiber leases. The Regional Collocation Center serves as the focal point of network operations and provides leased collocation space for public and private organizations in the region. 
CapeNet LLC has been licensed by OpenCape to operate and maintain the network. Business and government entities will contract with CapeNet for services. The cost of commercial middle mile service will be significantly lower than is currently offered in the region and non-profits and government entities will receive an additional service discount.