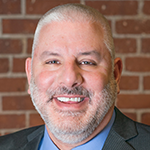 Director & MBI General Counsel
MBI
baldino@masstech.org
Michael Baldino was named Director and General Counsel of the Massachusetts Broadband Institute (MBI) at the Mass Tech Collaborative in January 2019.
Michael comes to MBI with a wealth of public sector policy experience. He served in Mass Tech's Legal Department for over 23 years, providing legal advice and counsel to MassTech's divisions. During his tenure, Michael was actively involved in supporting MBI's mission since the division's inception in 2008.
During his tenure at MassTech, Michael also managed complex grant programs, including the Waste-To-Energy Grant Program which disbursed over $55 million to 138 cities and towns in the Commonwealth, and the Southeastern Massachusetts Defense Manufacturing Grant Program.
Prior to joining MassTech, Michael held staff positions in the New York State Assembly and the Massachusetts State Senate.
Michael holds a B.A. in Psychology from the State University of New York at Albany and a J.D. from Boston University School of Law.